Have you ever wondered how much a group of students could geek out about Anthropology and museums? Well after spending the day at the American Museum of Natural History in New York City last Friday, I can personally tell you that it is *a lot*. In a couple previous blogs, I have talked about my love for Bryn Mawr's new Museum Studies program. After our visit on Friday, I am even more inspired by, in love with, and excited to see the program grow.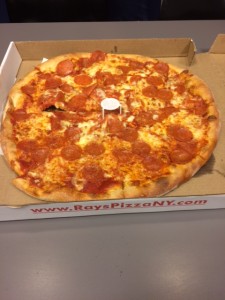 We started our visit off with a lunch of authentic New York pizza and conversation with six incredible members of the museum's education department. Each educator talked to us about their path to their current position, and as somebody who is interested in museums and their intersections with education programming, I was fascinated to hear how they had become part of the museum's team. After lunch, we made our way into the inner-workings of the museum building and quite literally got to go behind the scenes. On the way to our next stop, we walked through hallways lined with offices and cases full of artifacts. It was breathtaking to realize that even though the museum has an amazingly large amount of artifacts and objects on display, there are even more artifacts that are not on permanent display. If only museums had infinite amounts of space!
Besides being in awe of having the opportunity to see a side of the museum that not many visitors get access to, by walking through the hallways of the museum behind the scenes, we got to literally walk in the footsteps of Margaret Mead, who through her work helped popularize American Anthropology. This is where the geeking out came in! As an Anthropology major, it was surreal to be a place where not only one, but two prominent individuals in your field had once worked and left their mark on. Franz Boas, who is known as the father of American Anthropology also worked at the AMNH, and according to one of the curators we were fortunate to have the opportunity to speak with, the museum is where Boas decided American Anthropology should be taught using a four- field approach including Cultural, Biological, Linguistic, and Archaeology, a practice the Bryn Mawr Anthro. department still practices today.
The curator we spoke with also talked to us about what it was like to work with Margaret Mead, and even had her rocking chair right in his office, which one of my classmates got to sit in! She once told him that the classroom should not get in the way of students' learning, a comment that has continued to stay in mind. I was struck by it, because it really highlights the need for programs like Museum Studies at BMC, and the other PRAXIS courses we offer that make field sites outside of the college integral to students' learning. Our syllabus came to life, as we were able to see the artifact that is pictured on its first page. That is a cool feeling! We can learn incredible amounts from lectures, discussions, and our textbooks, but nothing can compare to the learning you get from immersing yourself in a place.
Our next stop was the Margaret Mead Hall of Pacific Peoples where we got to hear about the intricacies of museum display, communication with cultures represented in the hall, and the effects of popular media on the museum. After all was said and done, we had about an hour of free time to explore the museum before we had to board the van back to Bryn Mawr. While we all would have loved even more free time to explore, we were all exhausted after such a full day of learning, questioning, and discussing. I'm sad that my time in the Museum Studies program is coming to a close, but as I've said before in my blogs, I am beyond ecstatic that the program will continue to grow and expose students to these incredible places and the people who make them what they are today.