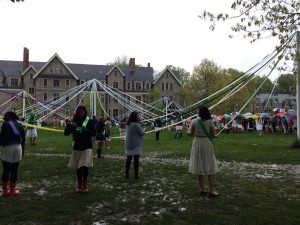 Every year since 1900, Bryn Mawr students have gathered at the beginning of May to celebrate May Day, which is the last major tradition of the year. On the Sunday after the last day of classes, we put aside our homework and studying for a day to de-stress and have fun before finals begin. Students don a variety of white outfits, typically waking up early to begin the festivities and spend the day enjoying performances, eating with friends, and relaxing on Merion Green. There's May Pole dancing, concerts, and many fun activities throughout the day. Since 1906 and every four years after that, Bryn Mawr has celebrated a Grand May Day, where like the name suggests, the festivities are done and enjoyed on an even larger scale. My class got to enjoy Grand May Day during our sophomore year, and the next one won't be experienced until May of 2018. However, after experiencing my last May Day as a current student last weekend, there are many reasons why this May Day was pretty grand to me.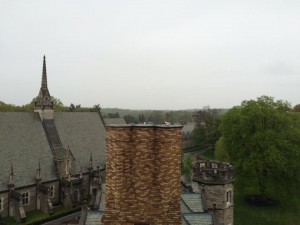 We started the day (not so) bright and early by climbing one of the towers of Rockefeller dorm. Since Rock is where I lived this year, it was even more special to view campus from the very top of it. After coming down, we headed over to the Wyndham Alumnae House where we ate strawberries and cream, the traditional May Day breakfast. Since Mother Nature sadly did not cooperate, we all grabbed our umbrellas and headed to the middle of campus to watch the May Day parade, listen to President Cassidy speak, and watch the classes compete during the May Pole dance. Despite it being dreary and muddy however, the reason my last May Day was so grand was because of my friends.
May Day can be a difficult time of year because students are happy classes are over, but face the remainder of their finals in the coming weeks. As seniors, we have half the amount of time as underclassmen to complete our finals and undergraduate work because professors have to have our grades in early to ensure everything is in place for graduation. (Shout out to all of our incredible professors who have helped get us to this point in our academic careers and have worked so hard to help us along this journey called college!) May Day feels like the calm before the academic storm. Sadly for us, May Day and the days surrounding it were full of literal storms, and so it didn't feel like we got the sunny day full of fun to recharge before finals like we usually do.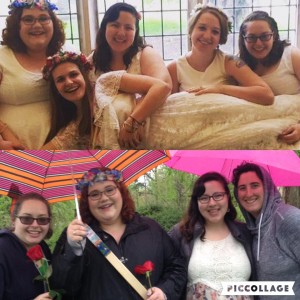 We spent most of our day after the morning's festivities inside because of the rain, but even on the gloomiest of days, I know my friends are always there for and can cheer me up. Bryn Mawr became my second home because of the friends and community I found here. Whether it's needing a push to finish your work, or needing somebody to vent to after a hard day, I know the women I have met and have the honor to call my friends will be there, rain or shine. Bryn Mawr's traditions are always a reminder of that.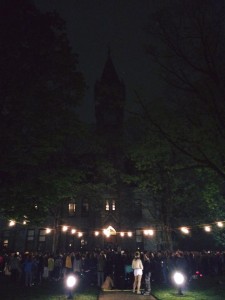 May Day is a unique tradition because at the end of it, the community begins to say goodbye to the seniors and welcome the junior class into senior status. It's a moment of excitement and sadness at the same time. It was very emotional to see so many people that night who have made an impact on my life and been with me through my four years.
To my Bryn Mawr sisters and friends, thank you from the bottom of my heart for making May Day and my time at Bryn Mawr filled with joy, laugher, tears (of the best kind), and love. Anassa Kata 2016, we're almost there!