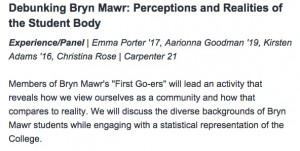 As Bryn Mawr students, we are very fortunate to have a college and administration that supports its community in the best ways it knows how. One of the ways the college has responded to recent requests for dialogues around important issues on campus has been to create Community Days of Learning (CDL) where all classes are cancelled, offices are closed, and all members of the community are encouraged to attend sessions throughout the day focused on the highlighted topic. Last year, our CDL was on race, and this year it was on issues surrounding class.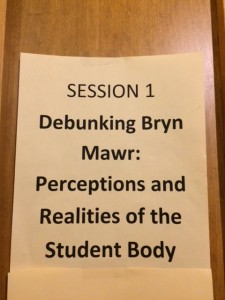 One of my favorite parts of these days is that students are allowed and encouraged to organize and facilitate sessions. I am honored to say that I was able to facilitate a session with two fellow members of First Goers, the student group for first- generation college students on Bryn Mawr's campus. Our session was called "Debunking Bryn Mawr: Perceptions and Realities of the Student Body". To plan for it, we researched different statistics that we personally felt were really important for members of the community to be aware of.
At 10:15, the start time for our session, people started filing in, and they didn't stop! We were not sure how many people to expect and so we had prepared for 40 thinking that would be too many. To our surprise, we had about 70 members of the community in attendance! We were ecstatic to see the response and interest in our session. To begin, we handed out index cards and asked people to make guesses about the different statistics we showed them. After discussing with their neighbors why they made the estimates they did, we revealed the real numbers. Some of the statistics we revealed were:
% of students receiving need-based financial aid: 49.7% (659 students received a Need-Based grant)
% of students receiving Pell grants: 14.0% (186 students received a Pell grant)
% of students who work on campus as part of work study: 46.3% (615 students received some amount of work study aid – Federal and/or College)
% of 1st generation students: 16.4% (218 students are First Generation)
% of 1st generation students receiving a Pell grant: 42.7% (93 of the 218 First Generation Students received a Pell grant)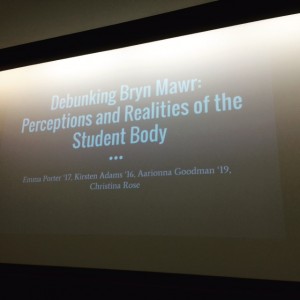 There were literal gasps from some members of the audience when they saw the true numbers, and others were surprised to see how close or far off their guesses had been. We had them divide into four groups in order to create space for a deeper discussion of the numbers and questions we had created for them. Each of us went to a group to help facilitate, but they didn't need it! The faculty, staff, students, and community members that participated had incredibly rich discussions and were willing to share their experiences, hopes, and thoughts with their small group as well as the group as a whole.
At the end of the session, the three of us that co-facilitated talked about why it was important to us for people to be aware of the statistics. I spoke about how as a tour guide, we love to tell prospective students about how at Bryn Mawr, we are more than just a number. We are very proud of this, as we should be, but at the same time, this can let numbers that really do matter fall into the background when they should be at the forefront of people's minds. The statistics we revealed and our participants discussed about may be two-dimensional, but they represent the lived experiences of students on our campus and impact their relationships and ways in which they navigate and experience their time at BMC. It is incredibly important for our community to be aware of the backgrounds students come from so that we can support them in the best ways we can.
It was an incredible experience to be part of such a significant and meaningful day on our campus. It was also inspiring to see so many members of the community engaged throughout the day and in different sessions about these topics and issues that impact our community. While the Community Day of Learning is only one day, these conversations need to be discussed throughout the year, and I hope the conversations started yesterday continue as we always have "mawr" to learn. Thank you to everybody who made our learning yesterday possible! I am so proud to be a member of this community.