Twas the night before Christmas, when all through a Mawrter's house                                 Not a creature was stirring, not even a mouse.                                                         Her finals were submitted by e-mail with care,                                                                     In hopes that her grades soon would be there.
She was nestled all snug in her bed,                                                                            While visions of lanterns and owls danced in her head.                                                  And with graduation just a semester away, thinking of her cap,                               She finally settled her brain for a long winter's nap.*
*Inspired by Clement Clarke Moore's "Twas the Night Before Christmas"
Oh how I wish things were this simple! Bryn Mawr is a very rigorous institution. There is no denying that. As a result, during the academic year in general, but especially during finals and the period of time we spend waiting for grades after we submit everything can be a taxing and anxious time for many students. Within this environment, it becomes too easy to put so much stress on and hold ourselves to impossibly high standards, making it hard to realize and appreciate just how much we accomplish and are capable of. Throughout my seven semesters at BMC, there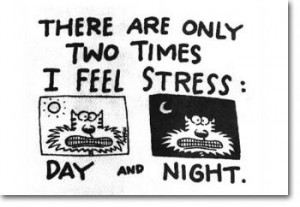 have been multiple times when I have wondered how I made it to Bryn Mawr and questioned if I belonged there amongst so many incredibly intelligent classmates. Junior and senior year have been the most difficult for me. Wondering which internships to apply for, which classes to take, wondering how I would fit studying for the GRE in, applying for jobs, working multiple work study jobs, and planning a thesis have made for a busy and stressful two years. Second semester of senior year might be a little less hectic, but graduation and the emotions and new beginnings that will bring are both daunting and exciting in their own respects.
My undergraduate journey so far has made me realize something incredibly important I wish I had been told during freshman year. While it is of course important for us to put our all into our work, we must also remember that we are human, there are limits to how much we can take and do well with, and we are not perfect. We try our best and our hardest, but we must remember to make time for and take care of ourselves, mentally, emotionally, and physically. We have a tradition at Bryn Mawr where we make "Done is Good" lists. You get together with your friends and write down a list of all the things you have to get done by the end of the semester. Next to each task, you put a piece of candy and as you finish each item, you get to eat the candy as a reward. As people finish all of their work for the semester, Facebook becomes flooded with statuses saying "Done is Good". While it is most definitely a wonderful feeling when everything is done and submitted, I know how easy it is to worry and fret over completed work, afraid it's not enough.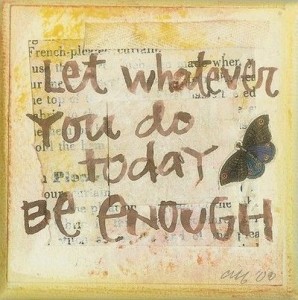 A close friend of mine reminded me this finals season that while done is good, it is also perfectly fine for it to be good (enough). She helped me realize how hard I have worked this semester and how I put everything I had into my final papers. I had done everything I could, and that is good enough. No amount of worry, anxiety, or stress will change this semester. We must remember to acknowledge our strengths, accomplishments, and successes no matter how big or small they appear to us as. We must remember we are human, and that we must take care of all of our needs, not just our academic ones, to be happy and healthy both inside and out.