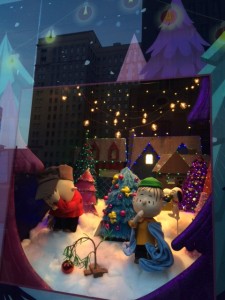 Is it really December 10th?!! It feels like just yesterday I was moving in and celebrating convocation and Parade Night, and now there are just 155 days until graduation. Between five classes, four jobs, and other commitments this semester, I have lost track of time and the weeks have escaped me. Interestingly, since the weather has been so unseasonably warm (I'm not quite complaining!) and because we haven't had our first snow yet, despite Christmas being just a couple weeks away, I haven't quite been in the holiday mood just yet. Needing that warm and jolly feeling to help get me through the last few days, I decided to head into Philly to visit the Christmas Market at Love Park. I wasn't the only one with that idea!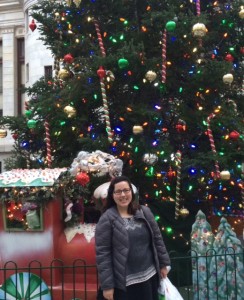 After doing a little bit of shopping, I walked towards City Hall. Walking along Macy's I noticed the windows were decorated with adorable Peanuts scenes. They were all illuminated, had moving parts, and were drawing lines of people wanting to take their picture with it. Cutting through City Hall to get to Love Park, I was surprised to find a giant Christmas tree that was absolutely beautiful. Just like the window displays, there were rings of people around the tree waiting for their opportunity to get the perfect shot or selfie with the glittery decorations. The only thing missing was Santa! Approaching the Christmas market, I had flashbacks of one I went to in Edinburgh last year. It's amazing to think about how quickly the last year has gone by and just how much I have grown and changed.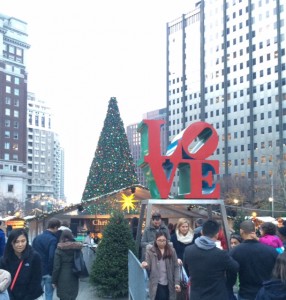 The fountains in front of City Hall were transformed into ice skating rink, and while smaller, it was quite charming and people lined the perimeter drinking cocoa, eating snacks, and watching people skate. I wish I could skate well! It would take a touch more coordination than I currently have 😉 I arrived in the heart of the market around 4pm on Sunday and boy was it crowded! It was so busy it was hard to see what was in each carefully set up and decorated stall. From what I could see, I found everything from jewelry, clothing, antiques, mulled wine, and everything in between…. including "bacon jam"… Whose line was down the walk way! Another tree adorned the park and below it a choir was singing carols and holiday songs. It was chilly and cloudy and so, nearly half way through December, I finally felt like it was the holiday season!
Despite the crowds, my Sunday outing was a perfect break from homework, imminent finals that are approaching a little too quickly, and a great way to help cheer up this tired senior. Done is almost so good!