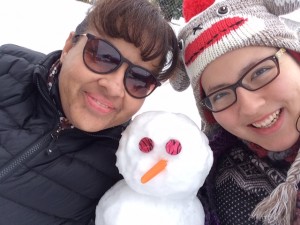 It's so good to be home and taking a break from the hustle and bustle of senior year! When I was packing to come home, I left all of my heavy sweaters and boots at school because I never dreamed I'd need them in El Paso, which is known as the Sun City. We earned that name by having nearly 300 days of sunshine a year. After this weekend, you wouldn't be able to tell! The day after Christmas, it started raining, quickly turned into into sleet, and by nighttime, it was snowing! Our area had been under a Winter Storm Warning issued by the National Weather Service, but usually that means we get a dusting if we're lucky. When they predicted 6 to 9 inches we didn't believe them! Low and behold, it kept snowing and snowing all day and night.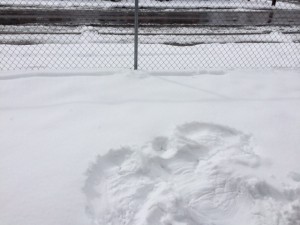 It was so much fun to wake up two days after Christmas to a winter wonderland in the desert. I put on my scarf and hat and started playing! You know you grew up in the desert when you ask your mom things like, "How do you build a snowman?" and "How do you make a snow angel?" In the past when it has snowed, there is usually only a shallow layer and so when you try to make an angel you hit the dirt below. We must have had over half a foot because I was able to make one without any problems, but boy was it cold. D: With the help of my mom, we made a snowman that actually looked like a snowman! I searched the house for things to use for his face and buttons, and eventually decided on some chocolate kisses, leftover cranberries, and of course a carrot for his nose!
Despite having this awesome and unexpected snow storm, we still had to work against the sun as it kept popping out from behind the clouds just long enough to keep melting off our snowmen's eyes and nose. After an hour outside, we decided to head in hoping the best for our frozen friend. Our fun in the snow was a wonderful surprise and a nice break from the warmer temperatures we were having in Bryn Mawr. While I've loved the cold and snow, I'm definitely ready for it to warm up just a bit. I hope everybody had a wonderful holiday weekend and best wishes for the New Year! More next week in… 2016! (Can you believe that? I certainly can't!) Happy New Year to all!