Not only is Philadelphia known as the City of Brotherly Love, but as of this week, it is also the United States' first and only city to be named a World Heritage City by UNESCO. Two-hundred and fifty cities worldwide currently hold the title and the addition of Philadelphia is expected to bring increased tourism and business to the city. So what is it like to have such a historic city at my doorstep? I have enjoyed exploring different parts of the area the last three years, and through my adventures, I have come up with a list of my five favorite and must see spots.
1. Reading Terminal Market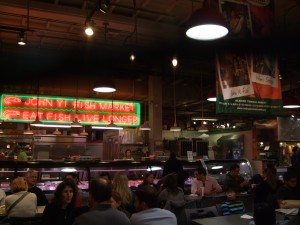 If you are a foodie, and even if you aren't, your trip to Philadelphia will not be complete without a visit to Reading Terminal Market. Located at 12th and Arch streets, the indoor market originally opened in 1892 is full of stalls boasting nearly every kind of food imaginable. From lunchmeat to cannoli and everything in between, it is sure to please. Because it is such a draw for tourists and locals alike, it can get incredibly crowded, so be prepared for some lines at the more popular stalls. It's 100% worth it though!
The crowds certainly add to the experience, but if you prefer a less hectic time in the market, I have found it to be less crowded Sunday mornings and early Friday afternoons. Two shops I definitely recommend stopping by are Termini Bros. Bakery for a cannoli and Hatville Deli for a Sweet Lebanon Bologna sandwich.
2. Independence Mall
Located about a twenty minute walk from Reading Terminal Market is Independence Mall in Old City. The area is home to some of the most historic spots in the country. You can't leave Philly without touring Independence Hall and seeing the Liberty Bell. While you are in this part of the city, you can also visit the National Constitution Center, see Benjamin Franklin's grave, and walk through the house it is believed Betsy Ross lived in when she sewed the American Flag.
3. The Franklin Institute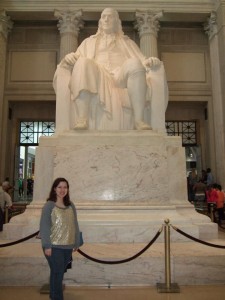 About a fifteen minute walk from Suburban Station in Center City is the Franklin Institute. While the main science museum is better suited for a younger crowd, there is still plenty for adults to enjoy in the exhibits. Additionally, it houses an IMAX theater with neat documentaries and occasionally, current movies. My favorite thing about the Franklin Institute however is their visiting exhibit offerings. In one of my blogs I talked about my experience in their more recent exhibit, The Art of the Brick, and I have also been lucky enough to see a traveling exhibit on The Titanic and Pompeii as well. They were all incredible, making the real artifacts and such rich history available for us to see without leaving Philadelphia. In the Spring, an exhibit called "The Science Behind Pixar" is opening and I am eager to see it!
4. Mural Arts Tour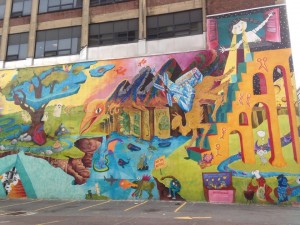 Last April through Admissions I had the privilege of going on a Mural Arts tour around Center City with a group of admitted students and their families. Being the world's largest collection of outdoor art, I highly recommend taking a tour of your own. The Mural Arts Program offers both public and private walking, trolley, and train tours of some of the city's most beloved pieces. Each year over 2,000 artists participate in the project, beautifying neighborhoods and acting as service agents for their communities.
5. Eastern State Penitentiary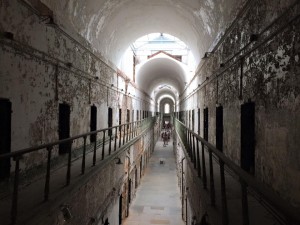 Eastern State Penitentiary was #127 on my bucket list for senior year and I can finally say I've been there! While it wasn't quite what I expected, I still think it should be on the attraction list of anybody who is visiting because of it's incredible and eerie history. If you visit in the Fall and before Halloween, you'll even be able to participate in "Terror Behind the Walls" which is a haunted house that takes place in the penitentiary… talk about scary! The rest of the year however, the empty cells and crumbling walls create a stark experience for visitors learning about the people who lived there, most notably Al Capone. About a ten minute drive from Suburban Station, it's definitely a worth while excursion while in the area.
I hope you've enjoyed learning about some of my favorite local spots! I still have a very important Philadelphia stop to complete before I graduate and that is tasting a famous cheesesteak from both Pat's and Geno's. Look for that in a blog to come!