For many students, Fall Break comes at the perfect time. About half way through the semester, homework, midterms, and extracurriculars have been keeping us busy and by this point, we are all in need of a breather. This break found me and two of my best friends in Las Vegas for some desperately needed relaxation and girl time. Senior year, while exciting, has been hectic and we were all ready to have some fun and leave our planners behind for the week.
Our first day in the city of neon and bright lights was spent admiring just that… the signs that made Las Vegas the cultural icon it is today. The Neon Museum is located just 20 minutes away from the strip in the downtown area. Our tour began during the heat of the day at noon and as all of the pieces are exhibited outside, we definitely got our dose of Vitamin D! It was fascinating to see all of the signage and remnants from the city's past. Our tour guide was fantastic and gave us significant historical facts about the different hotels and casinos the signs came from and it was awesome to learn about the city's founding before exploring it ourselves over the next few days. After the Neon Museum we made our way to the National Museum of Organized Crime and Law Enforcement. I think it's the Bryn Mawr in us… learning doesn't just stop because we go on vacation!
We spent Sunday at our hotel's pool soaking up the sun and relaxing in the cool water. The weather in Bryn Mawr was beginning to become chilly and so the dry heat was definitely appreciated. Monday morning brought us to the Strip where we walked up and down the row of incredible hotels, attractions, and shops. According to an app on my phone, we walked over 25,000 steps that day! We walked through the luxury shops at Caesar's Palace and were in awe of the architecture that surrounded us everywhere we went. I have to say the Bellagio had the most beautiful interior with their botanical gardens decorated for the fall season with warm colored flowers and giant pumpkins. We then made our way back to the hotel and got ready for dinner.
After a summer of binge-watching MasterChef and MasterChef Junior, I was a happy camper Monday night when we ate at Gordon Ramsay's Pub and Grill inside of Caesar's Palace. The only thing that could have made it better would have been if Gordon had been there himself! The food was absolutely incredible and I can only imagine how delicious his other restaurants are. I guess I'll just have to go to all of them to confirm! He has four just in Las Vegas including a steak restaurant in Paris Paris. That one is definitely on my list to visit the next time we come to town.
I'd have to say the highlight of my break was on Tuesday when we took a day-trip to the Grand Canyon National Park. Seeing the Grand Canyon was on my personal bucket list and I cannot begin to describe how majestic, serene, and magnificent it was. Words are simply not adequate. To see something so much larger than us, made by the force of nature, and containing such beauty was an absolutely meaningful experience that I can't really compare to anything else I've ever witnessed. I would love to go back and actually hike from rim to rim as well as white water raft through the canyon. We'll see how adventurous I am in the future!
We spent our last night in Las Vegas making an elementary school aged dream of ours come true by seeing Britney Spears in concert at Planet Hollywood. While I have to admit I was doubtful the show would live up to my circa 2001 expectations, her show was stylistically and musically so cool! When she sang "Oops I Did It Again", "Ba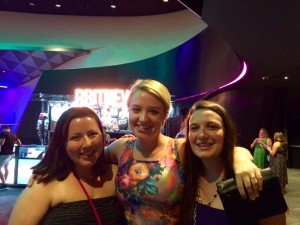 by One More Time", and "Lucky" I swear I was transported back to my CD playing, CD album toting first grade days. I can vividly remember watching a DVD of one of her concerts on repeat when I was about 7 while singing into a hairbrush as a microphone. It was such a nice throwback and a perfect way to end our week in Las Vegas.
Our seven days off of school went by completely too quickly, but we had the time of our lives and made so many memories in the process. Top it off with a visit from a very dear friend this weekend and it all made for an unbelievable week. Now it's back to reality and back to the grind, but this break will be the push to get us through to Thanksgiving and Winter Breaks!